The wet and windy weather is on the way, and the Gloucester Road barbering team at Franco's Barbering Lounge are pleased to unveil new American Crew Winter hair care products for men in Bristol.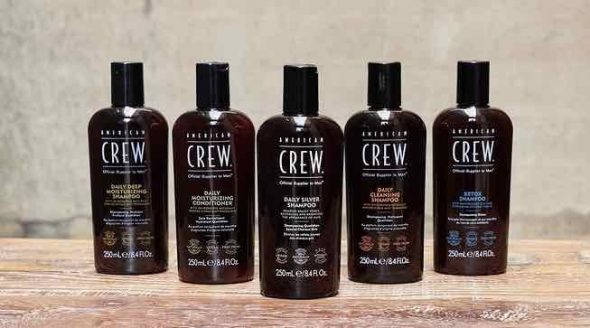 Our Gloucester Road barbering salon now has a new range of prescriptive men's shampoos and hair conditioners, designed to help protect, clean and nourish hair and scalp through the Winter months.
The new Winter hair care products contain between 81-90% natural ingredients, are vegan formulated and are free from harmful silicones.
Priced at £12.95 each, the new hair care products for men at our Bristol barber shop include:
Detox Shampoo
This dual-action clarifying shampoo acts as a scalp exfoliant as well as a hair detox, removing excess sebum and product build-up.
Containing a unique combination of essential nutrient-rich Manicouagan Clay and exfoliating Coconut Shell beads, it's also infused with American Crew citrus mint fragrance.
Created for all hair types, it leaves the scalp feeling refreshed with hair that is soft and manageable.
Precision Blend Shampoo
This shampoo was formulated by American Crew without parabens or sulphates, which helps to resist hair colour fading in gents.
Precision Blend contains glycerine to restore moisture to damaged hair and sodium lauroyl methyl isethionate to protect against colour fade out.
Daily Deep Moisturising Shampoo
This is a hair and scalp wash, rich in conditioning emollients that leave hair feeling soft all day without product build-up or greasy hair.
Infused with Vitamin B5 to promote healthier-looking hair this shampoo is suitable for daily use on normal to dry hair with an awesome ultra-hydrating formula. It also contains the American Crew signature citrus mint fragrance.
Daily Silver Shampoo
This Winter hair care product for men is designed to specifically revitalise and brighten the look of grey hair for clients. The new formula removes brassy tones whilst lightly moisturising and conditioning hair. And no weigh-down!
Daily Silver Shampoo contains a formula that allows for daily use without tinting grey hair. It also helps to protect against UV discolouration, with no staining of the scalp.
Daily Cleansing Shampoo
Enriched with Vitamin B5 for increased moisture, this silicone-free Daily Cleansing Shampoo is perfect for everyday hair cleaning routines.
It is designed for men with normal to oily hair and scalp, providing a vegan formula that washes away excess oil on hair and scalp.
Daily Deep Moisturising Conditioner
This triple-action conditioner for men restores strengthens and protects.
Hair is left feeling soft, manageable and easier to style. It detangles and increases moisture, reduces hair breakage from combing by 86%, and protects hair against dryness.
To see our full range of men's hair care products, visit our Bristol barbershop online.
To contact us, simply get in touch anytime via info@bristolbarber.com.