Franco's Barbering Lounge on Gloucester Road is often asked in-salon how to deal with men's curly hair problems in Bristol.
So we thought it would be useful to dedicate a blog post on how to handle curly hair so you can keep the curls and have an amazing look to match.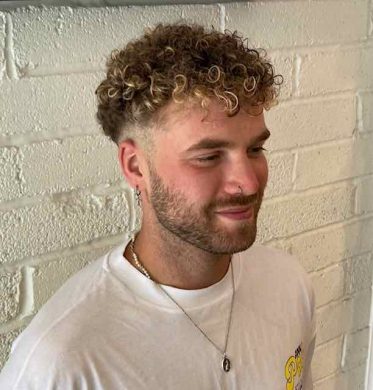 With more and more of our clients growing their hair during the previous Covid-19 lockdowns, and really loving the longer locks, we've been speaking to clients about how to manage, condition and style curly hair recently.
Curly hair can be really creative, as well as being easy to style and natural.
Historically, men with curly hair in Bristol have had two choices: either fight it or work with it. Many more guys are now choosing to go with the curls.
The key points to remember when working with curly hair on men are:
Trim the ends every 4-6 weeks
Shampoo and condition daily
Use a Moroccan Oil & EVO Liquid Curl Balm product cocktail for conditioning
The example pictured above involved giving the client a low skin fade to the back and sides while keeping the weight on top and allowing the curls room.
The sides and top were blended in with a slight disconnection to accentuate the awesome curls this client has.
Moroccan Oil and EVO Curl Balm were used together roots to end.
This can either be worked into towel-dried curls and left or use a diffuser to dry without distorting the natural curls. The haircut above costs £29.
We would recommend that clients with curly hair have a haircut every six weeks, although we also offer a Skin Fade Maintenance service for £23.
The maintenance service is ideal for keeping the overall look fresh and sharp in-between cuts and is one of our most popular men's hairdressing services.
To contact us, simply get in touch anytime via info@bristolbarber.com.