We're really excited to be able to give clients exclusive offers on premium men's skincare, men's grooming and men's styling products in Bristol this autumn.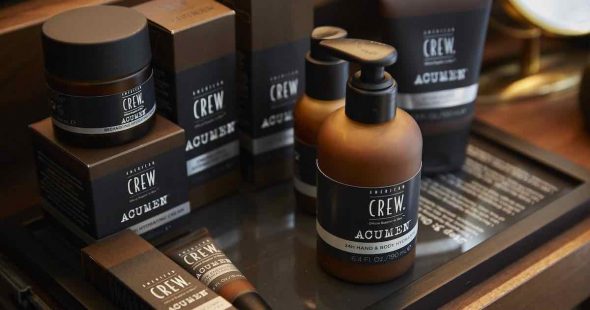 To celebrate the recent launch at our Gloucester Road barber salon of the high-quality Acumen range from American Crew, we are giving 40% off the whole range during September and October.
This exciting line-up of superb products features 15 high-performance products formulated exclusively for men to enjoy in-shower, pre and post-shave or beard grooming, as well as for skin and hair care requirements.
All products in the American Acumen range have been developed to increase the skin and hair's ability to retain moisture, fight environmental damage and promote healthy-looking and radiant skin.
Acumen products are more than a regimen, this is a completely new way to look after your hair, skin and grooming needs.
American Crew is one of the world's leading men's grooming brands and has been a best-seller for years in our Bristol barbershop.
The new Acumen range features a powerful complex of vitamins, anti-oxidants and moisturising agents to deliver the best performance and visible results.
Acumen products are most effective when used in a four-step ritual including:
Step 1: Shower
In-Shower Face Wash, Clay Exfoliating Cleanser, Invigorating Body Wash and Daily Thickening Shampoo.
Step 2: Shave
Cooling Shave Cream, Soothing Shave Cream, and After-Shave Cooling Lotion.
Step 3: Care
Energising Hydrating Gel, Recharging Hydrating Cream, Eye Energizing Hydrating Gel, Scalp Revitalizer and 24-hour Hand & Body Hydrator.
Step 4: Style
Firm hold Grooming Cream, Nourishing Cream pomade, and Classic Pomade.
To purchase any of the discounted American crew Acumen products, please visit here.
Why not book in for a Facial Experience or Beard Experience to try out some of these incredible new Acumen products for yourself this Autumn.
To contact us, simply get in touch anytime via info@bristolbarber.com.