Clients have been asking in-salon what's the best Summer hair product in Bristol for men this year, so we thought a blog post dedicated to the subject would also be helpful.
This year's hottest Summer hair product for men is EVO Builders Paradise.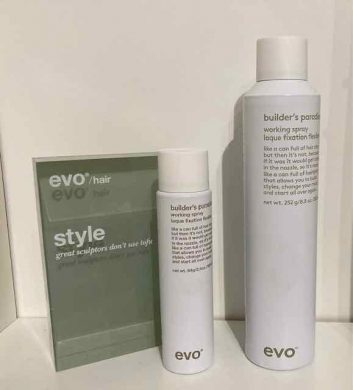 It's been literally flying off the shelves at our Gloucester Road barbershop since we introduced it, and clients have been giving us awesome feedback.
It's a work-in spray and is best applied to towel-dried washed hair. When blow-dried in, it provides a clay-type medium hold and is perfect for building styles and layering men's hair during the warmer Summer months.
It is particularly well-suited for medium to long hair and provides volume while also being lightweight and dry in the hair all day.
As well as improving styling, definition and hold it creates texture and builds body. The flexible hold provided by this Summer hair product can be restyled with ease and reactivated with heat.
Clients with long hair since Covid-19 and lockdowns in Bristol have been looking at different hair products, and EVO Builders Paradise is a really good example of a simple and easy-to-use Summer hairstyling hairspray for men.
The trend in men's hairstyling this year has been about clients asking for lighter products that are versatile, provide a flexible range of styles, as well as being seasonal in terms of offering the capacity to deal with different types of weather conditions as we move through 2021.
It brushes out easily without leaving any residue and can be used on all hair types.
It's vegan-friendly, animal-cruelty-free, and made without any sulphates, parabens or gluten.
Available at our Gloucester Road men's salon in 100ml cans for £6, or we have a special offer available on 300ml cans for only £14 while stocks last.
To contact us, simply get in touch anytime via info@bristolbarber.com.