Our barbering team on Gloucester Road are thrilled to announce that the new American Crew Acumen premium product range is now available in Bristol.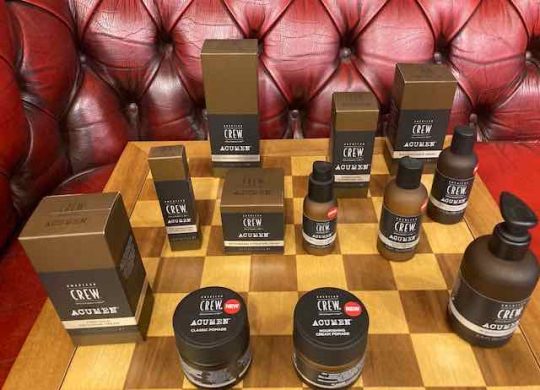 This high-quality selection of skincare, beard grooming and body care products from American Crew is now in stock at our Bristol barbershop.
The new Acumen collection of grooming and skincare products are designed especially for men who have specific issues and needs due to oily skin, large pores, sweating, and also who want the best in anti-ageing products.
Some of the ingredients in the Acumen range include Vitamin E, ginger root extract, hyaluronic acid, Vitamin B5, cranberry and bisabolol to increase blood flow in the skin, retain moisture, provide extra hydration and fight free radicals.
The Acumen range is all engineered to suit skin tone, texture and grooming needs.
The American Crew Acumen products are designed to cover the four steps of a shower, shave, skincare and styling.
Shower products include:
Clay Exfoliate Cleaner £22.70
In-shower Face Wash £22.70
Invigorating Body Wash £14.45
Daily Thickening Shampoo £22.70
Shaving product includes:
Smoothing Shave Cream £18.50
Men's Skin Care products include:
Energising Hydrating Gel £38.20
Eye Energising Hydrating Gel £28.90
Recharging Hydrating Cream £43.80
24-Hour Hand & Body Hydrator £14.42
Styling products include:
Nourishing Cream Pomade £20.60
Classic Pomade £20.60
Firm Hold Grooming Cream £22.70
These new premium products for men from American Crew further bolster the brand name and highlight why American Crew has been one of the best providers of skincare, shaving, beard grooming and styling products we use in our Gloucester Road men's salon for a number of years.
Ask about the new American crew Acumen range during your next hair or beard consultation with us, so our Bristol barbers can demonstrate them.
To purchase any of the new American crew Acumen products, simply ask in-salon.
To contact us, simply get in touch anytime via info@bristolbarber.com.