Clients visiting our Gloucester Road barbershop during July have been asking what are the hottest men's Summer hair trends in Bristol for 2021, so we thought we'd showcase a recent full hair, beard and moustache re-style.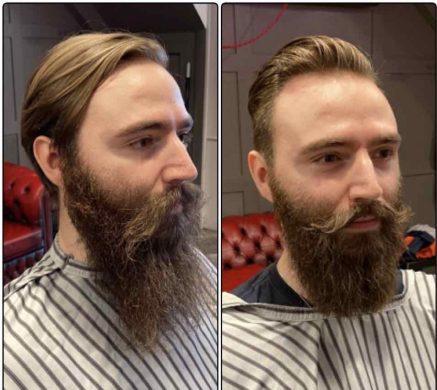 The awesome example above is from a visit by a new client last week who hadn't visited any Bristol barbers in 12 weeks.
The evidence of three months of neglect due to lockdown can clearly be seen in the first picture.
It was clear that he wanted a full re-style of hair, beard and moustache with expert guidance on best hair care and beard hydration products to use.
As with all client visits, the starting point was an extensive and thorough consultation to determine exactly what look the client wanted to achieve.
We looked at various hair images, discussed how the client wanted his hair to look, feel and move. Our Gloucester Road barbers carefully examine the DNA of each clients' hair and their daily hair and beard grooming rituals.
The client's hair was very fine on top, but he wanted volume, so after taking a small amount of length off the top the best product to apply was TIGI Big Head Volumizing Mousse.
And for the additional benefits of conditioning hair, we always recommend using 2-3 pumps of Moroccan Oil on hair that has been washed and towel-dried.
The back and sides were then faded to a number three using clippers.
The beard shaping was agreed to be tight on the sides fading into the hair.
Wearing latex gloves, a cocktail of beard care products were worked into the beard, then worked with a round-barrelled brush and blow-dried to buckle out any kinks. The beard instantly looked longer, fuller and healthier.
The cocktail of beard products used was American Crew Foam Cleanser, American Crew Beard Serum and American Crew 2-in-1 Skin and Beard Moisturiser.
It's important to use as much beard product as is required. Big beards will require more products to be worked in, and this regime is really vital.
The beard was then shaped and squared with the jawline and blended in with the number three haircut to give a continuous fade.
As a result of the ongoing consultation, the beard looked longer and shinier.
The moustache grooming part of the service involved working in American crew Moustache Wax, sculpting it in and trimming moustache hair off the top lip to provide extra definition.
Finally, American Crew Beard Balm was applied to style the beard.
The client was in the chair for about an hour and paid £70 which included £35 for the hair restyle and £25 for a big beard grooming and shaping service.
The client purchased a number of the top brand hair and beard products used so that he could continue to get the look between now and his next visit.
To purchase any of the products featured above, simply visit our online shop and buy for yourself. See here for more details.
To book your own slot now for a full Summer restyle and the best beard and moustache grooming services in Bristol, please visit here.
To contact us, simply get in touch anytime via info@bristolbarber.com.