We're really pleased to announce that Franco's half-price Lockdown Sale on men's hair products in Bristol is now live, with a range of best-selling limited stock available from our favourite brands.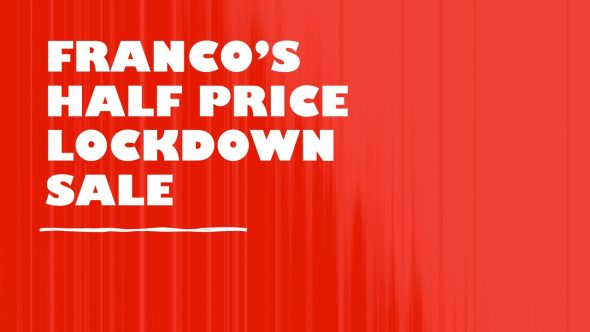 There are massive discounts currently available while stocks last on some of our best-selling men's hair products and male grooming products, including brands such as Triumph & Disaster, American Crew, EVO and TIGI B For Men. The sale items are strictly on a first-come-first-served basis.
Visit here to see the full range of Lockdown Sales items in stock.
It couldn't be easier to grab a great deal during the Bristol lockdown on your favourite hair care and male grooming products. Simply visit the online shop, pick your items, place an order, and get FREE local delivery within a five-mile-radius of our Gloucester Road barber shop in central Bristol.
Visit here to get half-price product savings today.
There's an awesome range of products available on sale, including men's shampoo, men's conditioner, men's facial moisturiser, men's beard balm, men's moustache shaper, men's shaving gel and much more.
We have a massive range of men's hair products, beard care products and men's skin care products currently available on sale.
The half-price Lockdown Sale comes less than a month after Franco launched the full online shop experience, for clients to enjoy easy access and online ordering for all of their favourite products, as well as the option to purchase gifts and vouchers in one place.
The blog is also updated regularly, with free tips and advice on hair care, beard grooming, the latest men's hairstyles as well as the hottest trends in men's hairstyling and male grooming.
For any queries about our half-price Lockdown Sale, the new online shop, or any of our barbering services in Bristol, please get in touch.