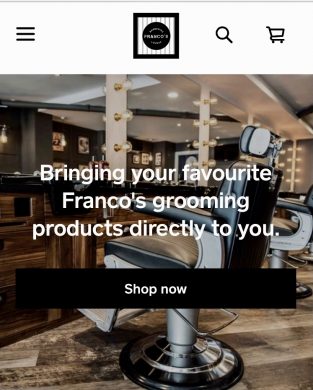 We're really pleased to announce that our new online shop for ordering the best men's hairstyling and male grooming products in Bristol is now live.
Clients can now get hold of all the usual best-selling men's hairstyling products and male grooming products, including global brands such as American Crew, EVO, Mariner Jack and Triumph & Disaster online from us.
The online shop is accessed from the Home Page of our website, and gives clients a cart-style shopping experience with automatic receipts being issued following secure payment being made through our safe, encrypted platform.
There are a number of exclusive deals and discounts available only via our new online shop, so visit to see which offers you can get – when they're gone, they're gone! The online deals are strictly on a first-come-first-served basis.
Client are able to purchase the following items via the new online shop:
Men's shampoos
Men's conditioners
WAHL Clippers
Hair & Beard Combs
Men's hairstyling products
Men's beard care products
Men's hair care products
Men's moustache care products
Gift vouchers for perfect presents
Doorstep deliveries will be available in the event of any future Covid-19 lockdowns, whilst Click & Collect orders will be available to collect in-salon, or posted to you, with postage and packing being added on top of each order.
You can access our awesome online shop here now.
The new platform is ideal for topping up client's favourite hair care and male grooming products, as well as finding inspiration for men's Christmas presents and birthday gifts. Visit here to find out more.
To keep up-to-date with the latest men's hairdressing and male grooming from our team of Bristol barbering experts, please visit our barbering blog here.
To find out more about our Gloucester Road men's salon, contact us here.