We had an amazing client visit recently, and wanted to share the transformation he experienced at our Covid-safe Gloucester Road Bristol barbers.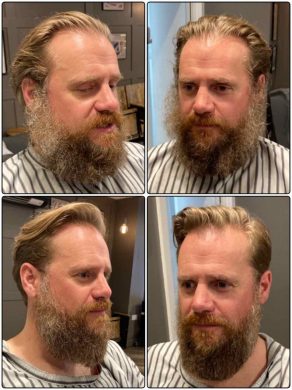 The client, pictured above, had grown his first ever beard over an 18-week period during lockdown, and didn't know where to go with his look next.
It was in bad condition, looking wiry and bristly and hadn't had any hydration or conditioning treatment during the growth period. It looked a mess too, not because of the beard length, but because of the beard condition.
Following a thorough initial consultation, American Crew Skin Moisturiser and American crew Beard balm were both applied, to provide moisture and shape.
The ends were trimmed off the beard, and a scissor cut was delivered on the client's hair. Not much length was removed, the haircut was more about maintenance and improving the overall condition of the hair and scalp areas.
The scissor cut was perfect for helping to deliver an amazing client transformation at our Covid-safe Gloucester Road barber salon, and the finished look was awesome, as the before and after picture above shows.
Conditioning was applied to both the hair and beard, and this was the main emphasis of the client's visit. Longer hair length has become far more popular this year since lockdown, and many clients are going for a longer hair look.
The hair and beard service above took roughly 45 minutes in the chair, and cost the client £45. It was delivered by Master Barber Franco Lombardi.
To see some of the amazing recent reviews given to us by clients who have experienced total transformations in-salon, please visit here.
The vast majority of our client visits are now being made by online appointment – visit here to book in.
To keep up-to-date with the latest men's hairdressing and male grooming from our team of Bristol barbering experts, please visit our barbering blog here.
To find out more about our Gloucester Road men's salon, contact us here.