One of the most common questions our Gloucester Road barbering team get asked by clients is what are the benefits of a men's haircut in Bristol every 4 weeks, and the example below clearly highlights why it's a good idea.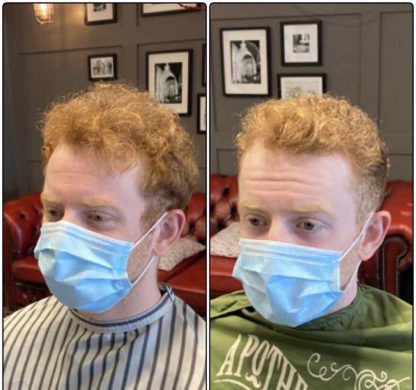 You might not think that a men's haircut at our Gloucester Road barber salon might not make that much difference, but the example above show it does.
Although not a great deal of hair was cut, the fine and frizzy re-growth of the client's hair had also sustained sun damage, and it was necessary to give a conditioning treatment with Moroccan Oil to boost the curly hair.
Other superb men's hair products used on this monthly men's hairstyling tidy-up included TIGI Small Talk serum for extra moisture, and Triumph & Disaster Ponsonby pomade to deliver extra condition and hold to the finished look.
The look above took approximately 25 minutes in the chair at our salon.
The four-weekly men's haircut service was delivered by Master Barber Franco, and was £27 with our standard additional £1 Covid-charge per client.
The £1 Covid-charge is applied for all men's hairdressing services, and for all stylist services, to cover the additional costs of PPE and cleaning chairs and work stations thoroughly in-between each client visit to our barber shop.
We now have a tiered pricing structure to cater for all clients' needs, with current prices being:
Luca & Franco £27
Lee & Tom £23
Christina £23
George £18.75
The vast majority of client visits are now being made by online appointment – visit here to book in.
To keep up-to-date with the latest men's hairdressing and male grooming from our team of Bristol barbering experts, please visit our barbering blog here.
To find out more about our Gloucester Road men's salon, contact us here.