Clients visiting Franco's Barbering Lounge recently have been asking what are the hairstyle trends for men in Bristol post-lockdown, and we've seen a clear winner.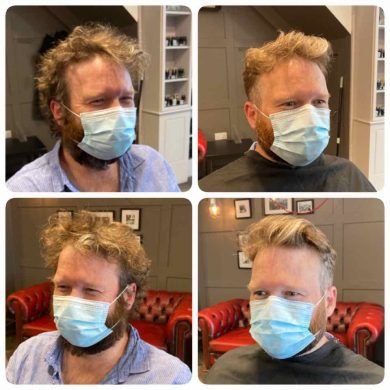 Longer hairstyling for men has become the firm favourite post-lockdown, as the example above highlights from a client visit to us last week.
On the left, the pre-haircut images make it clear that our men's hairstyling delivered an awesome result for the overall hair integrity and conditioning.
The length was kept on the top and front, after a detailed client hair consultation, with the back and sides being scissor-cut. The ends were tidied up on the top and then blended in with the sides to give a balanced look.
Moroccan Oil was also prescribed for daily use to ensure shiny, clean, and healthy hydrated longer hair for our client's hair until his next visit.
This haircut took 40 minutes in the chair, and cost £36, including our standard Covid-19 charge for PPE and cleaning materials.
The client also requested a beard trim service, which was also delivered costing £18. Beard oil serum was worked in to provide conditioning.
The client also took away a 2-in-1 Skin Moisturiser to use daily, alongside a Beard Balm product to hydrate and de-tangle the beard on a daily basis.
To book your next post-lockdown men's hairstyle in Bristol, please visit here online and schedule in your appointment.
To keep up-to-date with the latest men's hairdressing and male grooming from our team of Bristol barbering experts, please visit our barbering blog here.
To find out more about our Gloucester Road men's salon, contact us here.