The lockdown is gradually easing, and in advance of the hopeful re-opening of our Gloucester Road barbers on 04th July, many of our clients are asking 'What are the best men's hairstyling products in Bristol for short hair?'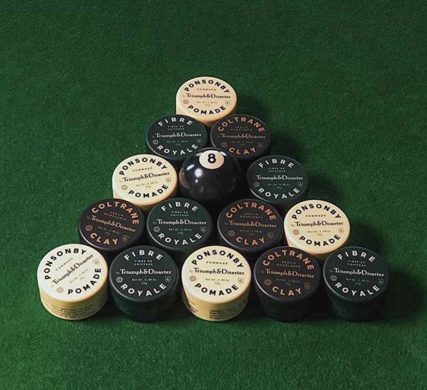 It's anticipated that with hair salons and barber shops re-opening across Bristol from 04th July (subject to government regulations, of course) there will be a big increase in short hair.
This will create demand for men's hairstyling products, and many of our clients have been emailing to ask what are our favourite ones, and why.
We've been proudly stocking Triumph & Disaster hairstyling, face and skin care products for over 18 months now, and they are consistently top sellers in our Bristol barbering shop, month-in-month-out.
And when it comes to men's hairstyling for short hair, Triumph & Disaster have a trio of hair products for men that really deliver the goods.
As pictured above, the three pucks are Coltrane Clay, Fibre Royale and Ponsonby Pomade. These are top quality, awesome men's styling products.
All priced at £20 each in-salon, these are amongst our most popular men's short hair styling products, and have been awesome for so many clients.
Here's why our clients with short hair love these eco-friendly styling products:
Coltrane Clay
Utilising white clay and beeswax, this medium-hold clay is designed to create the perfect hold for those looking for a firm, matte, healthy wave that's flexible.
Simply work a small amount of Coltrane Clay through dry or damp hair. Done!
Fibre Royale
This is a strong, natural product that provides strength, and hold without adding volume or dulling the hair's natural shine. Utilising a blend of beeswax, argan oil and kawakawa to mould hair and treat the scalp, it gives real style.
With a fragrance of bark, pine needles and cold-pressed orange rind, simply work a small amount of Fibre Royale through dry or damp hair. Sorted!
Ponsonby Pomade
Containing a tree resin called Sangre de cargo with flax oil, Ponsonby Pomade treats and balances the scalp, while argan oil attacks split ends and promotes healthy hair growth.
It's a revolutionary pomade that can both style and protect hair from damage, whilst leaving the hair and scalp feeling clean and healthy. Simple!
To keep up-to-date with the latest men's hairdressing trends and male grooming tips from our team of Bristol barbering experts, please visit our barbering blog here.
To find out more about our Gloucester Road men's salon, contact us here.