It's 2020 already, and many of our clients are asking how to get the best men's hair restyle in Bristol for the New Year ahead. Simple – visit us!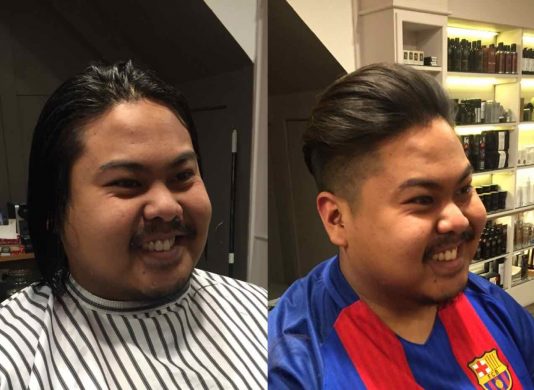 The men's hair restyle example above is from a recent client visit, and the transformation looks awesome. The client absolutely loved the cut.
Lots of guys think about starting a new year with losing weight, going to the gym, learning a new skill or starting a new hobby. Our advice is to be brave and try out a new haircut, or opt for a men's hair restyle for 2020.
The example above highlights really well the kind of men's hair restyling our talented team of 10 barbers on Gloucester Road delivers, day in day out.
It's a good idea to research the kind of look and restyle cut wanted first, and this is where social media plays a part. Look at images and men's hairstyle image examples on Pinterest, Instagram and Google for inspiration. Save these images on your phone and then show us them when you visit the salon.
Our expert team of Bristol barbers will always provide bespoke suggestions for ideal hairstyles and trending men's haircuts to consider, as well as detailed and free hair consultations for all clients visiting us on Gloucester Road.
We have a well-balanced team of men's hairdressing and male grooming experts, with a great level and breadth of knowledge, as well as in-house training behind them and industry-level NVQ qualifications in Barbering.
We can deliver classic haircuts such as Short Back & Sides, various Skin Fades, contemporary cuts, creative men's hairstyling for long and short hair, as well as male grooming services and expert offerings such as Hot Towel Shaves.
We also provide a range of world-leading men's hair products, male grooming products, men's skin care products, and men's styling products in-salon.
This year, the current trend in men's hair restyling seems to be for soft, relaxed and natural hairstyles. We give clients our expertise and advice.
If you're also thinking about a men's haircut for Valentine's Day or will be attending a Spring Wedding and want a sharp slick look, please remember to come and see us a good 10 days beforehand, so that the new men's hairstyle has time to bed in. We'll advise clients further on this during their consultation.
To book online and guarantee a time and slot for your next visit with no waiting time, please visit here.
To keep up-to-date with the latest men's hairdressing and men's hair restyle trends from our team of central Bristol barbers, please visit our blog here.
To find out more about our barbers on Gloucester Road, contact us here.