One of the most popular hairstyles requested at our Gloucester Road barber shop this year has undoubtedly been a disconnection haircut for men from our central Bristol clients.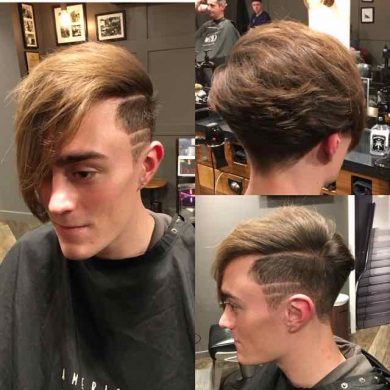 This stylish look is a real head-turner, and has been one of the hottest men's hairstyles throughout 2019.
The example above is from a client visit last week, and clearly highlights why it's a hit with our men's hairdressing clients.
The disconnection haircut for men leaves plenty of weight on top, and is delivered using a combination of scissors and clippers.
One side has a parting which was cut into the hair for added impact, whilst the other side focused on the disconnection element. Length was kept on top, whilst the back and sides were shortened to highlight the disconnected style.
This sharp, top-weighted men's hairstyle is one that's easy to maintain with minimal product required, and looks great in the Winter. We love it!
The above example only took around 30 minutes in the chair, and costs from £26. It was delivered by salon manager Lee, and the client was delighted.
All of our Bristol barbering team give clients a full and free hair consultation with every visit, to ensure that a new look or new men's hairstyle will suit the client's face shape and type of hair before getting to work on creating a look.
To book online and guarantee a specific time and slot for your next appointment with no waiting time, please visit here.
To keep up-to-date with the latest men's haircuts and male grooming from our team of men's hairdressers and male grooming experts in central Bristol, please visit our barbering blog here for our latest news.
To find out more about our team of experienced barbers on Gloucester Road, contact us here.