December is here, and many of our clients are looking for a perfect Christmas haircut for men in Bristol at our Gloucester Road barber salon: and we think this example from last week is awesome.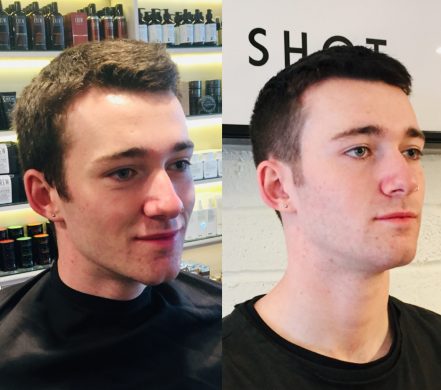 In essence, it's a Short Back and Sides and is a classic men's haircut from our Bristol barbers. The client above received the look from Master Barber Franco Lombardi.
One of the key considerations when providing the best festive hairstyling for men is not to immediately take large amounts of hair off, but to think about tidying, trimming, and shaping of the hair to give a better overall look.
The classic Short Back and Sides remains one of the firm favourites with clients visiting our Gloucester Road barbers, as it's easy to maintain.
This type of men's hairstyling requires a critical level of time and attention to the head shape. The back and sides were tamed down, with product being applied to the top.
A number four clipper cut was delivered over the back and sides, while tapering down into the nape. This was then blended, to give the sculpted classic look seen in the picture above.
The product applied to the top was American Crew Moulding Clay, perfect for thickening and darkening the hair. It's a simple, clean, sharp festive cut.
The client was only in the chair for 20 minutes, with this Christmas cut costing just £20. A full and free hair consultation was provided initially, as usual.
To book online and guarantee a time and slot for your pre-Christmas visit with no waiting time, please visit here.
To keep up-to-date with the latest men's haircuts and male grooming from our team of men's hairdressers and male grooming experts in central Bristol, please visit our barbering blog here.
To find out more about our team of experienced barbers on Gloucester Road, contact us here.