Our barbering team on Gloucester Road often gets clients asking the question How often should I get a men's haircut in Bristol – and we respond with roughly the same answer each time.
Whilst there's no rigid requirement, and every male client we have will have different hair growth, men's hairstyles, and seasonal changes they might want to make with their look, we generally recommend a maintenance haircut every six weeks or so.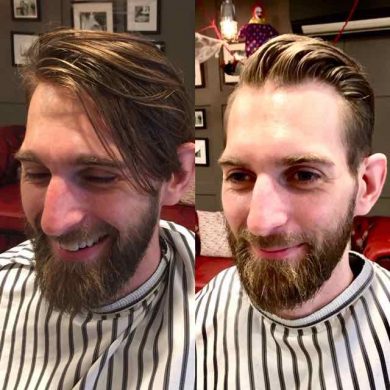 This helps to keep the hair in the best condition, as well as giving our clients the opportunity to get the latest looks and best styling and grooming products.
The Before & After example above is from a client visit last week, where the six-weekly trim highlighted a big difference in the overall hair and beard look.
Six-weekly men's haircuts with our Bristol barbers help to ensure each client is using the right men's hair products and beard grooming products, as well as giving them styling tips and additional products such as men's hair brushes.
The client in the picture only spent 30 minutes in the chair, with a trim and tidy-up, as well the application of American Crew 2-in-1 Conditioner on his beard for extra hydration and moisture. It's available in-salon for £14.50.
The six-weekly maintenance haircut was a bargain too, at only £26. Result!
It's also worth pointing out that all of our men's hairdressing and male grooming clients receive a full and free consultation with one of our team.
To book online and guarantee a time and slot for your next visit with no waiting time, please visit here.
To keep up-to-date with the latest men's haircuts and male grooming from our team of experienced barbers in central Bristol, please visit our barbering blog here.
To find out more about the best barbers on Gloucester Road, contact us here.