Master Barber Franco's favourites are available exclusively via our blog this week – as a special offer on the top trio of American Crew men's hair products in Bristol.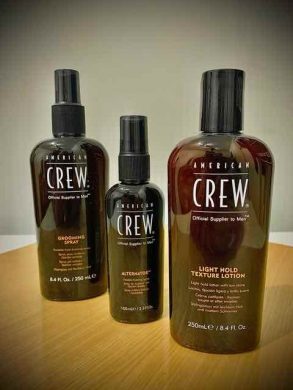 We've been getting great feedback from clients about these awesome hair products for guys, and this trio give a natural finish to keep hair in superb condition all day, every day.
The first is American crew Texture Lotion. It's perfect for putting moisture back into fine and dry hair, as well as helping to prevent frizz and fluff in hair. It can be used as a leave-in conditioner, and usually costs £16.95 to buy.
The second is American crew Alternator. It works like a salt spray, giving superb shine and hold. Easy to apply, it's an awesome men's styling product giving a natural look, and costs £12.95.
The third American Crew favourite product is Grooming Spray, and it works in a similar way to hair spray. It's perfect for locking in a look and giving hold. Available usually in-salon for £14.95.
Any client who mentions this blog post at our Gloucester Road barber shop with get all three American Products for only £35 – that's a massive 20% off.
This offer is available for the next month, and only while stocks last!
These American Crew men's hair products have all been available in-salon for over three years, and are among our best-sellers, month in, month out.
To find out more about the full range of American Crew products, please visit here.
To book online and guarantee a time and slot for your next visit with no waiting time, please visit here.
To keep up-to-date with the latest men's haircuts and male grooming from our team of experienced barbers in central Bristol, please visit our barbering blog here.
To find out more about the best barbers on Gloucester Road, contact us here.