With Summer weather upon us and clients wanting to look fresh and sharp, we've launched Maintenance Haircuts for men in Bristol.
The example below highlights a recent Maintenance Cut for a client: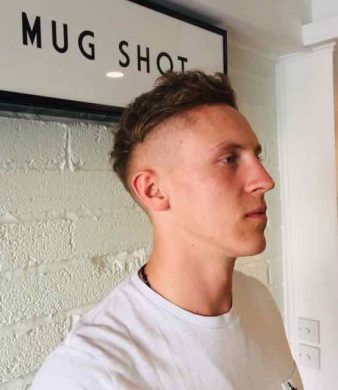 Clients look awesome when having just had a Summer hairstyle such as a Skin Fade, although it can grow back faster during warmer weather, and within a fortnight needs tidying up again on the back and sides.
This is where our new Maintenance Haircuts for men service come in. A classic short back and sides or the hugely-popular Skin Fade haircuts for guys at our Gloucester Road barber shop provide a quick, simple and fast solution.
Many of our clients prefer a high and tight men's hairstyle in Summer, as it looks good but is straightforward enough to maintain over time. This type of men's hairstyling also helps clients to stay cool during holiday months.
Essentially, our new Maintenance Cuts for men involve tidying up the back and sides. It doesn't include working on the top of the hair, as this would incorporate a full men's haircut at our barbering shop.
One of the major benefits of a Maintenance Cut for men is that it keeps a skin fade looking sharp and fresh without the cost of a full haircut.
A Maintenance Cut at our Bristol barber salon only takes about 20 minutes, and costs just £18. It's a fantastic way to keep a skin fade looking fresh!
The new service has proved really popular this week since its launch, and we're expecting it to remain a big hit in August and September, so book fast!
To book online for a Maintenance Haircut for men in Bristol, and guarantee a time and slot for your next visit with no waiting time, please visit here.
To keep up-to-date with the latest men's haircuts and male grooming from our experienced men's hairdressing team on Gloucester Road, please visit our Bristol barbering blog here.
To find out more about the our barber salon in Bristol, contact us here.