One of our best-selling Summer men's styling products on Gloucester Road has been American Crew Boost Powder, so we thought we'd focus on it.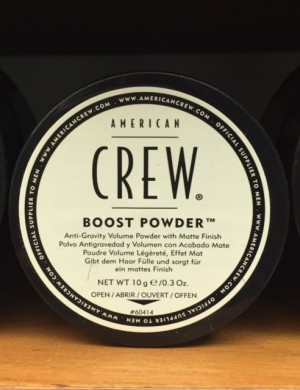 As a simple-to-use but effective men's styling product it's hard to beat, and our team of barbers all love using it in-salon to finish a men's haircut.
And using it at home couldn't be simpler – here's our top tips on Summer styling for men using American Crew Boost Powder.
Shampoo and towel dry hair, then apply layers of Boost Powder on damp hair. It gives volume whilst retaining a natural look.
This men's styling product is often used in magazine shoots, as it gives a top quality style, is simple to use, and provides extra attention to detail when working up a cool Summer style.
Once applied, blow dry for extra volume to give an awesome dry finish.
American Crew Boost Powder is available at our Bristol men's hair salon for only £15.20, while stocks last.
Summer hairstyling for men can be a tricky subject, as the extra seasonal heat can leave hair limp and lifeless. We have a range of men's styling products that can help, and American Crew are amongst our top brands.
We also recommend adding American Crew Texture Foam, to give firmness into the tips of hair after styling. This is a great way to provide solid styling, despite extra heat from Summer sun.
To find out more about American Crew styling and grooming products, visit here. Our team of qualified barbers in Bristol also give full and free hair consultations for men, so if you're unsure what to do with your hair this Summer, why not get in touch and let us give you some expert advice.
To book online for a men's hair consultation and cut with us, please visit here.
To keep up-to-date with our latest news, please visit our Bristol barbering blog here.
To find out more about our barber salon on Gloucester Road, contact us here.