Some of our Gloucester Road barbers have been buzzing this week, following a half-day training session with men's hairdressing experts from American Crew visiting Bristol to deliver bespoke training.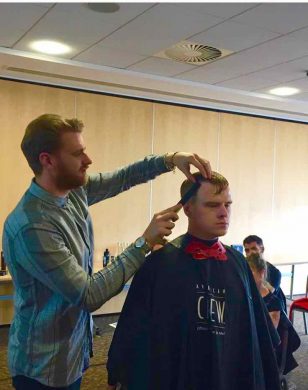 Pictured in action above is American Crew Master Barber Ian Tucker highlighting new barbering skills and techniques, during part of a morning session to demonstrate new tricks on styling men's hair.
The aim of the training session from American Crew for our Bristol barbers was to see how important it is to utilise multiple hair products for men and different techniques to create unique and interesting men's hairstyling.
The tips and tricks from Ian showed ways for our gents hairdressers in Bristol to create more volume, deliver a textured finish, to create types of natural finish, and the best ways to work with American Crew hairstyling products.
American Crew men's hairstyling and male grooming products have been top sellers at our Gloucester Road men's hair salon for years now, and we stock the full range of products for our clients, as well as using them in-salon.
They've consistently produced and distributed awesome men's hair products, and we sell more American Crew products to clients than any other brand.
The training session further highlighted something that our barbering team already know – men's grooming in Bristol is a huge growth area, and the days when guys had one hair product or grooming product are long gone.
The trend is now to have multiple products, and to cocktail men's hair products to create individual looks for both daytime and evening wear.
The American Crew training and education session was really useful, and our barbers gained some fantastic new skills to try out with our clients.
To find out more about American Crew, please visit here.
To book online, please visit here. (hyperlink with https://www.bristolbarber.com/book%20now/)
To keep up-to-date with the latest men's hairstyling for Summer, please visit our barbering blog here.
To find out more about our barber salon on Gloucester Road in central Bristol, contact us here.