Clients visiting our leading barber salon on Gloucester Road have been asking this week what's the best Summer haircut for men in Bristol this year – and for 2019, we've got a clear winner: Tight Skin Fade with Messy Top.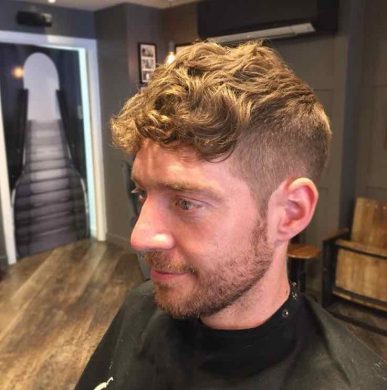 The example above was from a recent client visit, and this stunning men's Summer hairstyle was created by men's hairstylist and fully-qualified barber Tom who has seven years barbering and men's hairdressing experience, and who joined our Bristol barbering team nine months ago.
This manageable Summer hairstyle for men at our Gloucester Road barber salon started with a full and free hair consultation. As do all our client visits.
The cut began with a horseshoe section tapering the back and sides into a low skin fade, keeping the weight on the sides and blending in the top keeping the length from front to back. The profile lines were then shared and the lengthier top was fully conditioned.
The length and weight were then blended in, with Salt Spray being used to give a loose finished look for the client.
The Tight Skin Fade with Messy Top is an awesome, low-maintenance Summer haircut for men, and our client was really pleased with Tom's work.
It's a great men's hairstyle for day and night, with lots of options for a relaxed look or more formal sharp styled approach for nights out in the Summer.
Keeping it tight at the back and sides, whilst making sure the top was less rigid, enabled the client to have a versatile haircut for the sunnier months.
The Tight Skin Fade with Messy Top took 25 minutes in the chair and costs £25. Ask in-salon for more details when you visit us.
To book online for a men's hair consultation and hairstyling with us, please visit here.
To keep up-to-date with the latest men's hairstyling for Summer, please visit our barbering blog here.
To find out more about our barber salon on Gloucester Road in central Bristol, contact us here.