The expanding team of Bristol barbers have been showcasing their latest men's hairdressing styles on Gloucester Road for Spring, and there are three different men's haircuts to highlight on our Bristol barbering blog this week.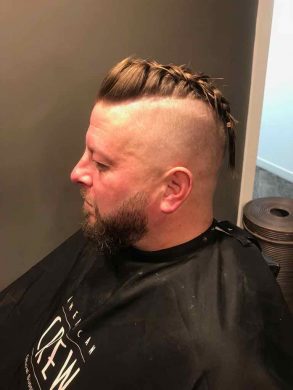 First up is this stunning Braided Mohawk delivered by Senior Stylist Paolo last week. It's a strong and stylish look, and the client was blown away by it.
Paolo is from Spain and has a hairdressing background. She's been at our Bristol men's hair salon for eight months now, and her work is superb.
The Braided Mohawk look above was created for a regular client by taking the back and sides to a 0.5 grade, keeping the top long and working it into a braided finish.
This hairstyle was also blended in with a beard trim. The total look was delivered within around 40 minutes and costing £40.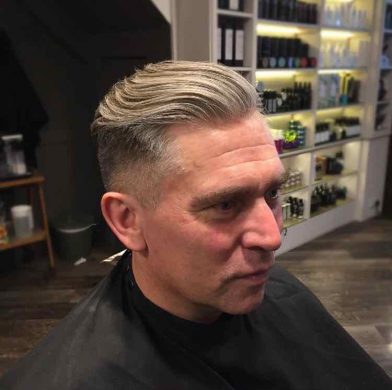 The next men's hairstyle above was from Senior Stylist Tom, who's also been at our Gloucester Road men's hair salon for around eight months.
This look from Tom proves that clients of any age can get a cool cut from our team. The client Pete may be in his 40s and have grey hair, but this classic short back and sides look is superb.
The cut was completed with a slick back and products to finish. It took roughly 25 minutes in the chair and costs £25.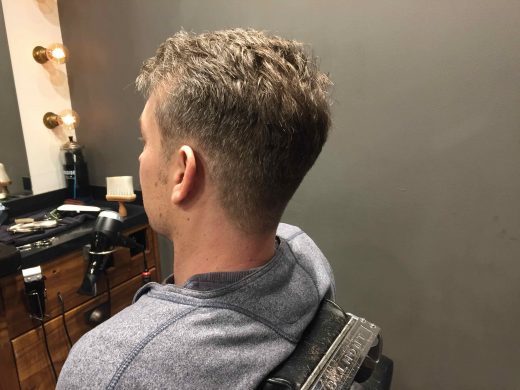 The third example of men's hairstyling for Spring above was delivered by Lily, one of our up-and-coming Apprentices. And what a fantastic job she did!
Lily has been an Apprentice at our Gloucester Road salon for nearly nine months, and is being personally trained and mentored by Master Barber Franco Lombardi as well as studying for her NVQ Barbering qualifications.
The look above is a great example of clipper work, in a quality short back and sides style, kept longer on top using scissors, and with a strong hold product.
We're on the lookout for models for free men's haircuts on Gloucester Road with Lily, so please do get in touch to find out more and book a slot with her at no cost. Lily is progressing so well that she'll soon have her own column.
To book any of our team of Bristol barbers online, please visit here.
To keep up-to-date with the latest men's haircuts and male grooming from our team of experienced Bristol barbers in-salon, please visit our barbering blog here.
To find out more about our barber salon in Bristol, contact us here.