We're so impressed with the new range, we're offering discounts on American Crew Fiber men's hair products in Bristol – for a limited time only.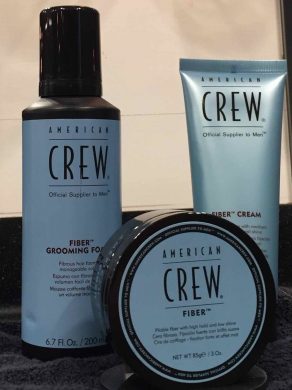 The new men's hair products and male grooming products now available in the Fiber range are an awesome addition to the superb American Crew family of products.
The latest addition to the Fiber range includes Fiber Grooming Foam, an awesome volumizing mousse that gives extra body to hair for the whole day.
Other products in the Fiber range that are now available at our Gloucester Road men's hair salon also include:
Fiber Cream – a pliable moulding cream superb for styling and setting in a solid look. Easy to use and washed out without fuss. A firm favourite.
Fiber Putty – the original and first in the Fiber family, this men's hair product from American Crew gives strong hold and delivers on every level.
Fiber Grooming Foam – a new addition which gives boost when needed, as outlined above and proving to be one of our most popular new products.

As a special offer, from Friday 22nd February to Friday 22nd March, we're running a discounted deal on the Fiber range of men's hair products.
Buy any 2 for only £20, whilst stocks last – please mention this blog post when you purchase in-salon, and simply pick your two Fiber products.
To find out more about American Crew, please visit here.
To book online for the full men's hairdressing and male grooming experience at our Gloucester Road men's hair salon, please visit here.
To keep up-to-date with the latest men's haircuts and male grooming from our team of experienced Bristol barbers, please visit our barbering blog here.
To find out more about our barber salon in Bristol, contact us here.