Some of our clients have been asking our Gloucester Road barbers recently what is the perfect Winter haircut for men in Bristol this year – and one of our firm favourites is a Low Skin fade.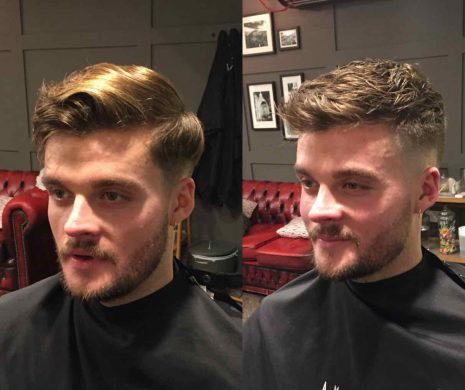 Master Barber Franco Lombardi had a visit last week from a long-standing client, pictured above, who was going travelling for six months and wasn't sure how to keep control of his hair during his travels.
In fact, he asked Franco for a crew cut, but during the initial hair consultation which is offered for free to all of our men's hairstyling clients, it was suggested that a crew cut might not be the best way forward for this client.
This particular client usually has a maintenance haircut every four weeks, and the six-month travelling stint was a concern for him. He felt that taking the hairstyle to a zero management option like a crew cut was the easiest way.
Franco, however, suggested a compromise hairstyle, such as a Low Skin Fade, which would still look good but require low maintenance.
The Low Skin Fade was delivered by retaining the DNA of the previous hairstyle. The back and sides were trimmed higher than before to take the weight out, with weight from the top being reduced as well as taking out the parting for a fresher, simpler look on top overall.
The hair was emphasised to the front and sides, creating a strong look but giving a low maintenance men's hair regime when the client is travelling.
The client was previously using American Crew Texture Lotion, but Franco recommended trying American Crew Fibre Cream for a choppy finish with good hold.
This Low Skin Fade with a cropped top took 30 minutes in the chair and costs £25. The client was delighted, and had the perfect Winter men's haircut too.
To book your own men's hair consultation to discuss your hair type, the best hair products for you, and the best men's hairstyle for your hair, simply visit online here.
To see more examples of our men's hairstyling expertly delivered by the team at our Bristol men's hair salon, please visit our barbering blog here.
To find out more about our Gloucester Road barber salon in Bristol, contact us here.