With the onset of Winter weather, now is the perfect time for us to unveil a new male grooming product to try from our Bristol men's hair salon – from Triumph & Disaster, called Game Face Moisturizer.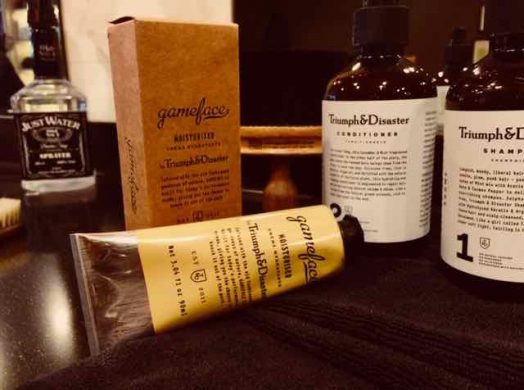 Every day exposure to wind, rain and colder temperatures reduces the skin's natural ability to protect itself, with skin natural oils presenting a barrier to damage. Keeping moisture in skin cells is an essential for male grooming.
Moisturizing regularly with high quality men's skin care products helps to protect and nourish the skin – critical during Winter months.
Game Face Moisturizer from Triumph & Disaster has been engineered to be light on the skin and easily absorbed. It's a unique combination of Jojoba extract, Horopito oil, Ponga fern and Vitamin E, with a fragrance that is a musky mix of smoke and wood, according to Triumph & Disaster.
It's a superb moisturizer for men that gives extra tone to skin, as well as protecting the surface of the skin, hydrating, locking in good oils and keeping the skin condition enriched and healthy.
To apply this daily moisturizing products for men, simply place a small amount onto palm of hand, then massage into face and neck in even, upward movements. Dry skin may need a larger amount, with oilier skin will need less.
Our very own Master Barber Franco Lombardi has been trialing Game Face himself recently, and has the following comments to make:
"Having turned 50 this year, I need all the help I can get! None of us want crow's feet around the eyes or a saggy neck. I wanted to try the new Game Face Moisturizer, as the Triumph & Disaster male grooming and men's skin care products are fantastic, and our client feedback has always been great."
"I use a small amount on my neck and face after a shower every day, and the results have been noticeable. The tube also isn't even half-way through yet, and that's with daily use for a month. It's an awesome male grooming product, easy to use, and non-greasy. An impressive anti-wrinkle moisturizer for men."
Triumph & Disaster Game Face Moisturizer is available to buy for only £34 in-salon, while stocks last, so come and get yours before it's all gone!
To find out more about Triumph & Disaster Game Face Moisturizer, please visit here.
To see examples of male grooming delivered by our Bristol team, and to see other male grooming products we have in stock, please visit our barbering blog here.
To find out more about our Gloucester Road barber salon in Bristol, contact us here.