The growing team of apprentice and trainee Bristol barbers are developing their own columns for clients now, and with that in mind, we've got an awesome offer of discounted men's haircuts at our Gloucester Road barber salon from September – while availability lasts.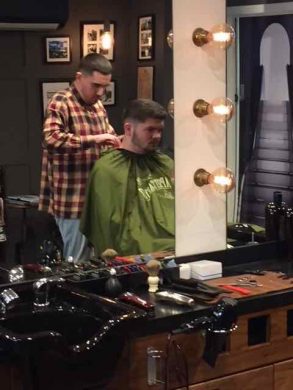 Ralph and Charlie have been attending college fortnightly at Reflections, working on their NVQ qualifications in Barbering, as well as receiving ongoing training and mentoring from Creative Director Franco Lombardi and the team.
They've come on leaps and bounds in a short space of time, and have been growing in confidence this year in particular. They're awesome new barbers!
So, to grow their client bases and to throw a great deal into the bargain too, from September onwards Ralph and Charlie will be offering discounted men's haircuts starting from only £15, subject to availability.
Both Ralph and Charlie are adept at providing a full range of men's hairdressing and creative cuts for guys, including firm favourites such as short back and sides, skin fades, hair restyling for men, as well as male grooming services such as beard shaping and moustache trimming in Bristol.
Ralph and Charlie offer full and free consultations to all clients, as well as the rest of the expert barbering team being on hand to jump in and provide advice for clients looking to create an exciting, edgy contemporary men's look.
Both these budding barbers also offer advice and guidance to clients on the best male hair products, beard grooming products and men's skin care products to use, having received full training with the rest of the Bristol team.
It's anticipated that their columns will fill up rapidly when this offer hits in September, so book early to avoid disappointment getting a slot.
We've got a quick and easy online booking facility available for clients – visit here to find out more and book in with us for a discount deal.
We offer the best advice on men's haircuts and male grooming trends at our Bristol Barbering Blog – visit here to find out more.
To find out about our Gloucester Road barber salon in central Bristol, please get in touch here.