The team of men's hairdressers at our Gloucester Road barber shop have been noticing more clients recently coming in for more than a haircut or a beard trim – but instead preferring to go for a full restyle for men in-salon.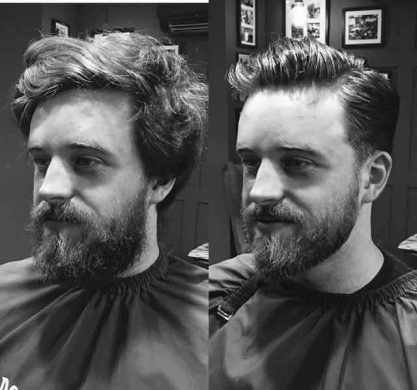 The 'Before & After' example above was from a client visit last week, and highlights an awesome transformation and tidy-up for a long-standing client.
The client hadn't been in to see us for a while. But was very clear what look he was going for and even brought in pictures to re-create a specific restyle.
The full restyle started, as always, with a free and detailed consultation, to ensure that we were on the same page as the client with the required look.
The restyle began with scissoring and tapering down the beard, as well as using American Crew Beard balm to shape the beard, and American Crew Beard Foam Cleanser to de-tangle, thicken and condition the new-look trimmed beard. Both of these products are available to buy in-salon.
Then, referring again to the specific restyle pictures the client brought in, we re-applied the client's side parting, with a low taper on the back and sides, keeping hair weight in place.
The crown was shortened on top, with longer length left in place at the front so the client could sweep back a quiff look and retain a stylish hair length.
The hair was washed beforehand with American Crew Daily Shampoo and Conditioner. Both of these superb every day products are available in-salon.
Finally, the hair was styled using American Crew Pomade to give it a simple but classy final look to complement the sharp new beard style for the client.
The full restyle took approximately 45 minutes in the chair and costs from £30, depending on the level barber providing the beard trim and hair styling.
We've got a fast and fabulous online booking facility available for clients – visit here to find out more and book in with us today.
We offer the best tips hints and advice on men's haircuts and new male grooming trends at our Bristol Barbering Blog – visit here to find out more and see other examples.
To find out more about our Gloucester Road barber salon in Bristol, contact us here.