Summer's here and our clients are asking for the perfect men's styling product combo for Summer. We've got a great pair at our Bristol barber shop for you.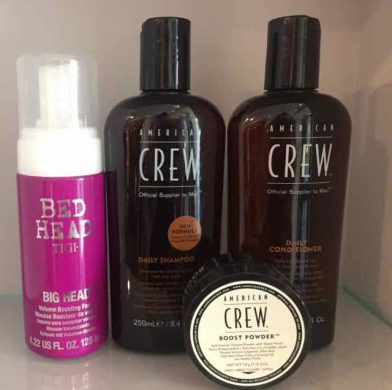 Pictured above are two of the best men's Summer styling products at our men's hairdressing salon on Gloucester Road, and are available now.
First up, it's TIGI Big Head from their superb unisex Bed Head range. This versatile, popular men's styling product has been one of our top-sellers for over a year, and both our barbering team and clients absolutely love it.
This awesome volumising mousse is simple to use, and provides a natural and long-lasting loose hold whilst also giving extra volume for men's hair.
It primes the hair by providing a light hold and texture, providing the perfect foundation for styling. The body-building fibres also allow for fuller and thicker-looking volumised hairstyles for both men and women.
The moisture complex present in this hair styling product delivers conditioning too, so that hair feels flexible and soft, not hard crunched. It's perfect for fine hair of any length to add volume and body without reducing hair integrity.
Simply apply 1-2 pumps into damp hair and towel dry or blow-dry as required.
Now available to buy in-salon, TIGI Big Head costs £16.95 while stocks last.
Our next top men's styling product for Summer is American Crew Boost Powder This is an anti-gravity volume powder with a matte finish for guys.
Boost Powder gives hair lift, thickness, but is a weightless powder that adds grit for a dramatic, gravity-defying texture to men's Summer hairstyling.
It can also be layered with any other American Crew men's styling products.
Simply tap the puck to loosen the powder, pour a small amount into the hand, sprinkle lightly on dry hair and ensure the product reaches the roots for maximum effect.
Boost Powder helps to retain natural moisture whilst also softening hair, providing a flexible hold and revitalizing dry, tired hair follicles in Summer.
Available at our Bristol barber salon now for £14.50, whilst stocks last.
Our team of men's hair experts also highly recommend American Crew Shampoo and Conditioner – both featured in the above picture – as among the best daily hair conditioning products for men on the market this Summer.
We offer the best tips hints and advice on men's haircuts and male grooming trends at our Bristol Barber Blog – visit here to find out more and see other examples.
To find out more about our Gloucester Road barber salon in Bristol, contact us here.