One of the favourite Barber Blog slots are our unique Men's Hairstyle of the Month blog posts, and this time we're focusing on a great example of hairstyling for men at our Bristol barber salon – Blunt Fringe with Step Haircut.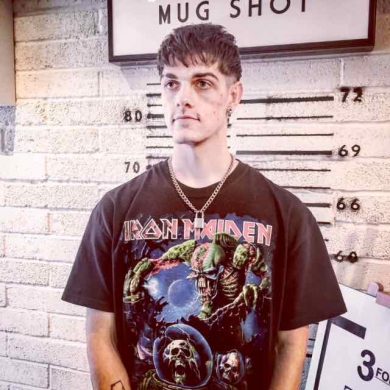 The first stage in delivering this contemporary men's haircut at our Gloucester Road barbering shop was to provide a full and free hair consultation.
This ensured that the client received a personalized Step Haircut – there are many different styles of Step Haircut for men, with the most popular options being either subtle and soft or aggressive and sharp, to create a big impact.
The client opted for a sharper Step Hairstyle, and this was delivered using a hard sharp line with a 0.5 clipper blade on the back and sides.
This provided a strong and defined look for this part of the hairstyling process.
The top kept texture, by retaining length, with a shortened fringe to highlight the Step Hairstyling and adding in a superb Blunt Fringe for extra effect. The final touch was to style the look using American Crew Cream Pomade.
The Blunt fringe with Step Haircut took around 30 minutes, costing £25.
With shorter men's hairstyles such as this one, it's important to consider hair maintenance – such as visiting our barbering team in Bristol every 10 days or so for a quick refresh trim to retain an awesome men's hairstyle for Spring.
We're always happy to guide and advise in-salon, and recommend making bookings online to ensure that you get your desired look on time, every time.
To book online and guarantee your appointment for a sharp men's haircut, please visit here.
We offer the best tips hints on hairstyling for men, the latest men's haircuts and male grooming trends including beard trimming and beard shaping at our Bristol Barber Blog – visit here to find out more and see other examples.
To find out more about our Gloucester Road barber salon in Bristol, contact us here.