Creative Director Franco Lombardi has delivered a couple of awesome seasonal hairstyle refresh for men examples at our Bristol barber shop in the last week, and we wanted to highlight them here on our blog too.
With more than 30 years' barbering and men's hairstyling experience in Bristol, if you're looking to sharpen up for Spring, the two examples below from Franco should help you to get the latest look for a men's hair refresh.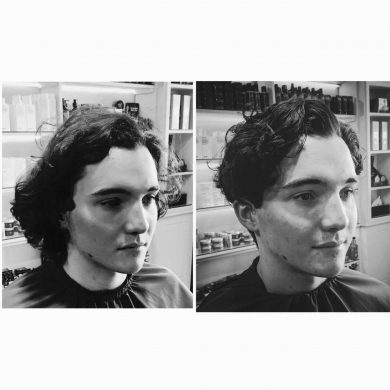 The example above is a classic example of a longer men's hairstyle which was re-worked into a new and fresh haircut without taking much hair off.
The hair refresh began with a long consultation involving examples of men's creative cuts from images, to ensure that the client was completely happy before the hairstyling began.
The client didn't want the hair to be too short, but was also aware that the length was making the hair look limp, flat and lifeless.
The back and sides were scissor-cut with a horseshoe section, then tapered down, whilst the top was textured and layered to reinvent the client's look.
TIGI Small Talk was applied to encourage natural loose curl, maintain a tight hold and help to de-frizz the hair. This control serum delivers every time.
The hair refresh example above cost £25 and only took about 30 minutes.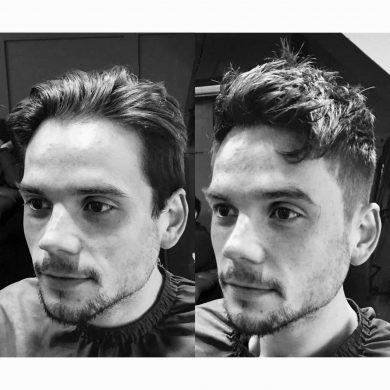 The hair consultation was lengthy and thorough for this client too, with the client looking to change the hair on top, as it was too flat without any life.
The weight was taken off the top, with the remaining hair being heavily textured to encourage more movement and volume in general.
The hair was also tapered to the back and sides, almost to a Level 1 length, to accentuate the longer fluid and natural hair remaining on top.
American Crew Cream Pomade was applied to give a medium hold and low shine, to provide a sharp but natural loose curl whilst defining the new look.
This hair refresh service took about 30 minutes and cost the client £25.
Both of these stunning hairstyles for men are great examples of how a quick online booking then visiting our Bristol barbers can deliver a sharp style for the new season, whilst also giving you an in-depth hair consultation for free.
We offer the best tips hints on hair restyling for men, the latest men's haircuts and male grooming trends at our Bristol Barber Blog – visit here to find out more and see other examples.
To find out more about our Gloucester Road barber salon in Bristol, contact us here.