Our best-selling men's hair product brand Triumph & Disaster has become so popular we've decided to run some amazing exclusive discounts on these superb hair conditioning products for men in Bristol.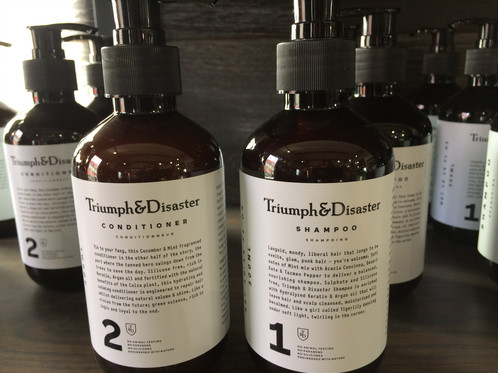 Triumph & Disaster Shampoo and Conditioner are premium quality men's hair products, and our team of Gloucester Road barbers love the results they give.
We've been stocking and using various hair, body and face products by Triumph & Disaster for a year now, and their philosophy of creating eco-friendly products, not tested on animals, and with unique aromas, has made their products a winner with clients visiting our central Bristol men's hair salon.
The first product we're focusing on is Triumph & Disaster Shampoo.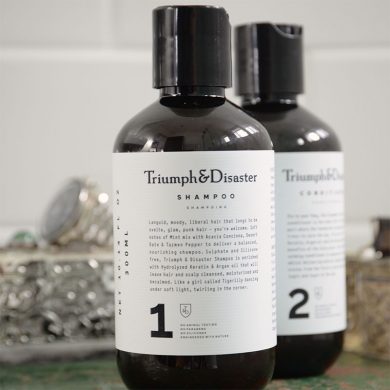 With aromas of mint, desert date and pepper, this shampoo provides a smooth balanced result. Sulphate and silicione-free, it also contains keratin and argan oil, leaving hair clean, moisturized, and ready for anything.
Triumph & Disaster Shampoo uses plant-based cleansers to remove excess oil and residual hair products, also delivering a hair and scalp treatment.
The second product we're looking at is Triumph & Disaster Conditioner.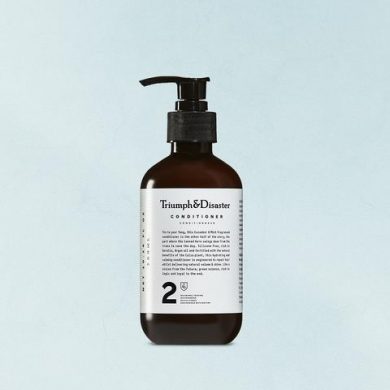 Providing a cucumber and mint-fragranced aroma, this conditioning hair product is rich in keratin and argan oil, silicone free, and engineered to calm, detangle, and repair hair whilst also providing boosted volume and shine.
It's a 100% natural detangling conditioner with a lightweight formula that hydrates hair without a long list of chemicals and silicones. Awesome!
To celebrate stocking these fantastic products for a year, we're giving up to 35% off for Triumph & Disaster Shampoo and Conditioner hair products at our central Bristol barber shop. Here's the deal:
Buy both for £25.90 and save a massive £14 on the usual retail price of £39.90 for purchasing Shampoo and Conditioner at £19.95 each or just treat yourself and buy one for £14.90 and save yourself £5 on the usual retail price of £19.90.
Simply quote this blog offer when you buy these products from us in-salon.
The exclusive discount on our best-selling hair product brand is on a limited availability, first-come-first-served basis whilst stocks last from 01st May.
To find out more about Triumph & Disaster, please visit here. (hyperlink with https://www.triumphanddisasteruk.com/)
To find out more about our full range of men's hairdressing and male grooming services on Gloucester Road, please visit here. (hyperlink with https://www.bristolbarber.com/services/)
To find out more about our online booking service, please visit here. (hyperlink with https://www.bristolbarber.com/services/)
To find out more about our Gloucester Road barber salon in Bristol, contact us here. (hyperlink with https://www.bristolbarber.com/contact/)