We're seeing more clients looking for different types of men's hairstyling, and now is a good time to look at examples of Spring hair restyling for men from our team of Bristol barbers at our Gloucester Road men's hairdressing salon.
One of the most important considerations when looking at hair restyling for men is to ensure that the consultation comes first, and then throughout the restyling process, so the client is happy at every stage with the results.
Investing 10-15 minutes in a full and free consultation with our men's hairstylists gives the opportunity to look at various styles, options, and is a critical part of making sure that a partial or full restyle delivers the goods.
We've got three awesome examples of men's hair restyling, total hair transformations for guys, plus a client who went for a radical new look.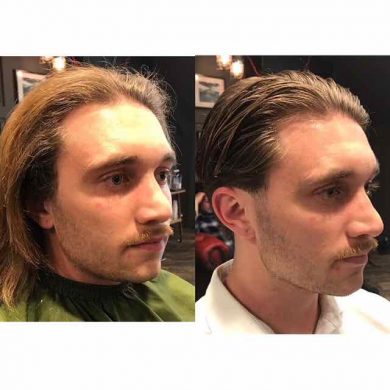 The example above was delivered with scissors, and going for a short back and sides look whilst retaining length on top. It was a complete hair transformation for the client, and he was amazed at the final look.
This particular Spring hair restyle took an hour in the chair, and costs £30.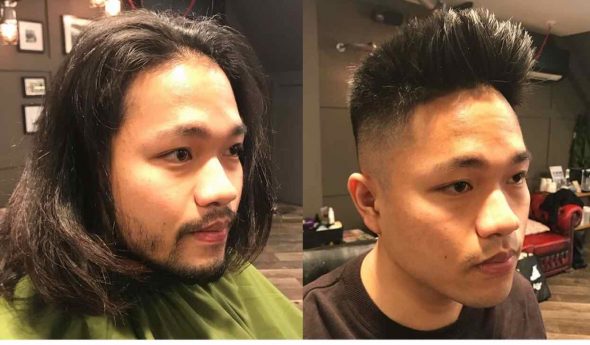 The client above opted for a massive change, and had a lengthy hair consultation before we got to work. This client brought pictures with him, to highlight the sort of look he was going for, so we were able to assist fully.
A hot towel shave was the starting point, followed up by a skin fade on the back and sides. The hair height and volume was retained on top, and Triumph & Disaster Coltrane Clay was used to give this superbly styled finished look.
The client was in the chair for 90 minutes, and the overall look costs £50.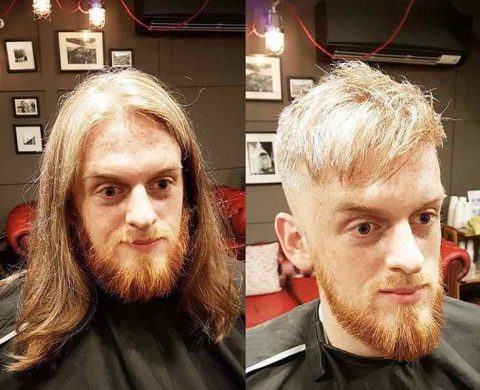 This final example of a Spring hair restyling for men started with a beard shaping service, then taking the long hair off the back. A fringe was developed, whilst also utilizing a short back and sides as well as a skin fade.
This client looked at picture examples beforehand, and had a good idea of what was required. The men's haircut, restyle and beard trim looked fab.
The client was in the chair for 75 minutes, and the look costs £40.
If you're not sure what men's hairstyle or male grooming look will work for you, just ask our team of barbering experts for help during your next visit.
Our hair consultation for men always gives a clear idea of the best look, and Spring is the perfect time to look at going for an exciting and edgy cut or trim.
We offer the best tips hints and advice on men's haircuts and new male grooming trends at our Bristol Barbering Blog – visit here to find out more and see other examples.
To find out more about our Gloucester Road barber salon in Bristol, contact us here.