The team at leading Bristol barbering salon Franco's Barbering Lounge have an exciting and packed 2018 ahead on Gloucester Road, with interesting developments, plans and new offers for clients.
The entire team of Bristol barbers enjoyed an awesome Christmas team evening at the Spiegel Tent event with grub, circus entertainers and some top tunes to end the night – find out more here.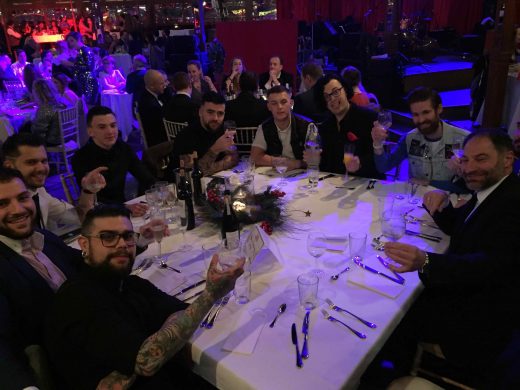 The team of men's hairdressers at our central Bristol barber salon – which now includes 10 gents hairdressing experts including recent entrants to the team Ralph, Charlie, Leighton and Harry.
This year plans to be another awesome instalment for the barbering team on Gloucester Road at Franco's, with more education and men's hairdressing training in place for our team of high-level barbers.
Creative Director Franco Lombardi will be dedicating an extra day per week in 2018 to closely mentoring the team of men's hairdressers, with his considerable experience as one of the longest-standing barbers in Bristol guiding and advising the team throughout this year.
The current website will be undergoing a refresh with a new look and feel by the Spring, as well as the introduction of a new Loyalty Card scheme.
Our barbering salon will still be offering opening seven days per week, taking card payments, opening late four nights per week, gift vouchers always available, and free hair consultations for all of our men's hairdressing and male grooming clients throughout the year.
We also stock a full range of men's hair products and male grooming products, from top brand names including EVO, American Crew, TIGI B For Men, Triumph & Disaster and many more – simply ask in-salon for details.
To find out more about our range of services, please visit here.
To book your own men's barbering and male grooming services online, simply visit here.
To see examples of amazing men's hairdressing, beard shaping and male grooming in Bristol, please visit our barbering blog here.
To find out more about our Gloucester Road barber salon in Bristol, contact us here.