One of the best reasons our clients love coming to Franco's Barbering Lounge is not just for men's hairdressing, male grooming, and beard trimming but also for our awesome selection of men's hair products, male grooming products, men's skin care products and beard care products.
So, we're taking a closer look on our Bristol barbering blog this week at another top men's hair product available in-salon: American Crew Fibre.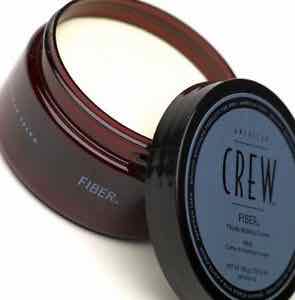 American Crew Fibre is the top-selling men's hair product in stock at our Gloucester Road men's hair salon, and delivers a strong hold with low shine.
Simple to apply, it's a case of working in from the roots to ends on towel-dried hair, then shaping as required. It gives a workable, all-day-long hold too.
The fibre-like, resinous structure of American Crew Fibre helps to thicken, texturize and increase hair volume, and works best on short to medium-length hair. Fibre contains lanolin, cetyl palmitate, ceteareth-20, and beeswax.
It contains humectant to give awesome hold, emollient that provides an outstanding smooth feel, a fine conditioner and emulsifier that protects against moisture loss whilst still providing total control. Our clients simply love it.
Get American Crew Fibre in-salon for only £14.95 on your next visit.
To find out more about our Gloucester Road barber salon in Bristol, contact us here.