Franco's Barbering Lounge has been a leading men's hair salon in Bristol for over 30 years, but we also provide male grooming services, including beard trimming.
And this month's top male grooming look is a super-sharp combination of a classic Skin Fade haircut with beard shaping thrown in for a total new look.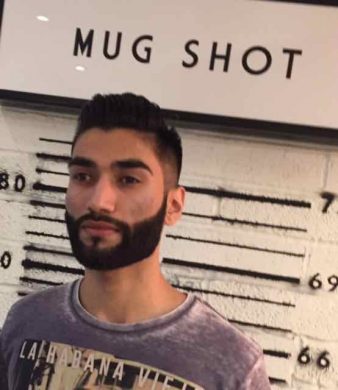 This awesome male grooming look was delivered by Leighton, one of our team of top barbers in Bristol who's just completed his NVQ Level II in Barbering and has been with our awesome team for less than a year.
This client restyle began with lots of client consultation to make sure the client was happy with the discussed look. We used pictures of similar cuts to give the client a real feel for the finished combination of skin fade and beard shaping, as well as using these pictures for referencing for the client.
The skin fade started with a horseshoe section, with a step in haircut first then a skin fade. Foilers were used to get the hair blending down to a zero level.
The fade line cut is a specialised men's haircut, with very technical barbering skills used.
The hair length was fine on the client's beard, so scissors were simply used to take down the sides and follow the jawline creating a strong finished look.
Mariner Jack was used to reduce frizziness in the beard hair, with Triumph & Disaster Coltrane Clay being used on the hair to give a solid matte finish with a clean classic look.
This top combination of a strong men's haircut and seamless beard grooming took around 45 minutes in the chair, and costs from £45 for haircut and beard trim.
You can book online with Leighton by visiting here.
To find out more about our Gloucester Road barber salon in Bristol, contact us here.