Franco's Barbering Lounge has been expanding in recent months, following a first anniversary at our shiny new men's hair salon on Gloucester Road.
Part of that expansion has included taking on talented, motivated and enthusiastic barbering apprentices, and two of our brightest stars continue to grow in confidence and men's hairdressing skills in the salon.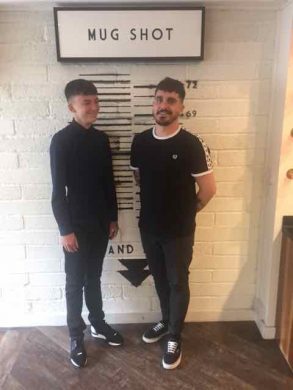 Charlie and Ralph, pictured above, have been demonstrating excellence in all their work at our Gloucester Road barber salon, and have rapidly become valued members of the 10-strong barbering team in central Bristol.
Both have successfully completed NVQ Level II exams in barbering with excellent feedback from both the college and their clients in-salon.
Charlie recently won an award from Reflections Training Academy as the best in his category for a recent men's haircut, whilst both the apprentices are learning all about men's hair products for each hair type and the science of hair, so they can deliver awesome advice to our clients.
Charlie and Ralph are also learning to deal with client expectations, to ensure that clients get the best results, and the DNA of barbering.
They are attending a full day of college every fortnight to learn the skills of the trade, as well as undergoing continuous assessment in-salon with Franco Lombardi, the Creative Director who has more than 30 years' expertise and is also a lecturer and men's hairdressing trainer across the region.
The assessments of our barbering apprentices at college is undertaken by NVQ-qualified teachers, mixed with expert lecturing and inputs on upcoming training and barbering competitions they can attend and enter in time.
Exciting times for our apprentices, clients, and for the best barber salon in Bristol!
Keep an eye on our Facebook Page to see what our apprentices are up to, as well as exclusive offers deals and discounts as they're announced.
We also use the Facebook Page to announce when free men's haircuts are available, as both Charlie and Ralph undergo assessment under supervision in-salon, so keep an eye on the Facebook Page for these freebies, too.
To find out more about our Gloucester Road barber salon in Bristol, contact us here.