One of the favourite male grooming product brands consistently used at Franco's Barbering Lounge in recent years has undoubtedly been TIGI B for Men.
So it's great to see new male grooming products now available within the TIGI B for Men range – for use in-salon, and for clients to take home with them.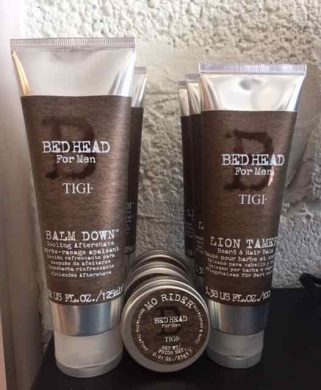 The first product is Lion Tamer – an awesome moisturising beard and hair balm. This male grooming product addition to the TIGI B for Men range is superb as an anti-frizz product, as well as helping to neaten hair when it comes to styling and finishing. Available for only £12.95.
The second male grooming product to launch from the TIGI B for Men brand is Mo Rider – a simple but effective moustache wax. It's a thick, hard wax for shaping moustaches. Ideal for creating a handlebar look! Only £12.95.
The third product to come from TIGI B for Men is Balm Down – a cooling aftershave moisturiser which helps rejuvenate and protect skin irritated from razor contact. This male grooming product is also only £12.95 in-salon.
As leading men's hairdressers in Bristol, we also provide full and free consultations to clients, and our team of expert, qualified barbers are on hand to give all clients the advice, hints and tips needed to make the very best of their hair style, hair length, as well as advising on their male grooming regime.
Simply mention this blog post in-salon when you purchase your new TIGI B for Men products, and we'll be happy to advise you further. Happy Days!
To find out more about our Gloucester Road barber salon in Bristol, contact us here.