The team of expert men's hairdressers at Franco's Barbering Lounge have been reviewing some of our hottest recent haircuts for men at our Gloucester Road barber salon.
And one of the best examples of awesome haircuts for men is this one from last week – which we have called Cool Cat: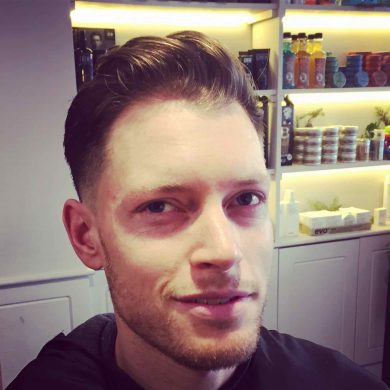 This particular men's haircut is one of the sharpest our team of men's hairdressers in central Bristol have been asked to deliver in recent weeks.
The starting point is to prepare a horseshoe section, separating the top and put in a guild line for cutting a low classic short back and sides for the client, following by a graduation up to the guild line, then adding a side parting.
The different with this Cool Cat haircut for men, however, is that the front is left heavy, and then taken shorter into the rest of the hair length.
It's a classy and unique look which our men's hairdressing clients love.
The hair was given an application of TIGI Bedhead– the new version
(Big Head) of an all-time favourite Totally Baked mousse was used for this particular look.
The client was in the chair for approximately 30 minutes, with the Cool Cat hairstyle costing from £25 at our central Bristol men's hairdressing salon.
Pop in for a full and free hair consultation to see how we can give you the best men's haircut you've had in years. Our team of expert barbers are ready!
To find out more about our Gloucester Road barber salon in Bristol, contact us here.