This week at Franco's Barbering Lounge we're focusing on one of the best-selling men's hair products from EVO – Cassius Styling Clay.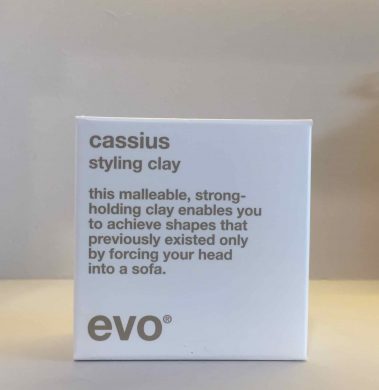 This long-standing and awesome men's hair product has been a firm favourite with our team of top barbers and men's hairdressers on Gloucester Road for some time now.
And with good reason – the EVO hair products for men are simply superb.
Cassius Styling Clay is a strong-holding wax-type hair product that provides a natural finish whilst also delivering raw texture and moveable hold all day.
The Clay is a unique men's hair product, as it gives a flexible hold for a hairstyle whilst also supporting and yet allowing the hair to be restyled as required.
It's versatile too, giving awesome hold for all hair types, but with a particular bias on helping to style thick and coarser hair types.
One of the most interesting facts about EVO Cassius Styling Clay is that it also contains beeswax, too – maybe that why there's such a buzz about it!
Get it in-salon for only £15.95 whilst stocks last.
To find out more about our Gloucester Road barber salon in Bristol, contact us here.