This week at Franco's Barbering Lounge we're dedicating the Bristol Barber blog to one of our most popular topics – the top men's haircut of the month.
And our favourite example of awesome men's haircuts from our Gloucester Road-based men's hairdressers so far this year is the fantastic edgy male haircut below – Blunt Fringe.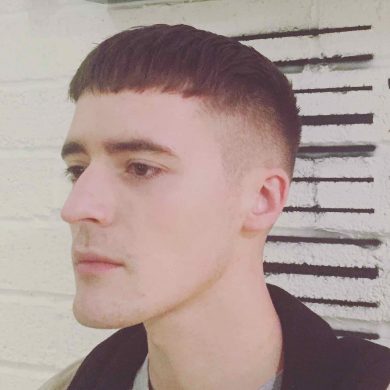 If you're looking for a different, more creative haircut for men in Bristol, the Blunt Fringe is one of our current favourites. And it's rising in popularity, too.
But how did we deliver the Blunt Fringe look?
It's got a very tight back and sides, which begins with a horseshoe section, then a short back and sides with a profile line, and blended in.
The hair is left heavy and textured on top, creating the blunt fringe and finished with a tight and high heavily textured look to create a new, fresh, different men's cut.
The look was finished off with EVO Cassius Clay, a strong hold wax with a matt finish, which costs £15.95 at our central Bristol barber salon.
The edgy and strong Blunt Fringe haircut for men costs from £25 at our Bristol men's hairdressers, and the client featured above was in the chair for around 30 minutes from start to finish.
Ask in-salon for details – we think this men's haircut will be a smash in 2017.
To find out more about our Gloucester Road barber salon in Bristol, contact us here.