This week at Franco's Barbering Lounge, we've decided to start spreading the festive love early, with a men's hair product offer for Christmas.
And it's for one of the most popular hair products for men that we've ever stocked – from the TIGI Clean Up range.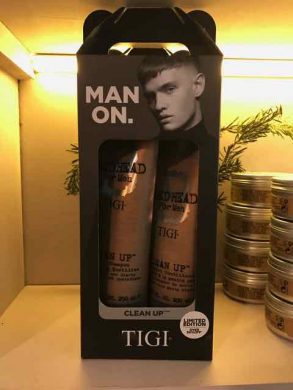 Clients can get the awesome Clean Up shampoo and conditioner products as pictured above for only £10 in this gift set – usually worth £20.
The Clean Up peppermint shampoo is a daily use men's hair product from TIGI, and is available with a nourishing and hydrating conditioner too.
The TIGI Clean Up shampoo breaks down products in the hair and provides a simple, easy, quick hair revitalisation, as well as delivering extra protection against Winter weather by locking in moisture to nourish the hair.
This men's hair product offer is available while stocks last, so pop into our men's hairdressing salon to grab this great deal before it's all gone!
We also have a range of Christmas Gift Sets from leading men's hair product and male grooming brands, including TIGI, American Crew, EVO, Reuzel and Mariner Jack with prices ranging from £10 to £35.
To find out more about our Gloucester Road-based barber salon in Bristol, contact us here.