The seasons have changed, and here at Franco's Barbering Lounge that means one thing – it's time for our expert men's hairdressers to provide some top Autumn Haircare tips for men in Bristol, to ensure hair stays in tip-top condition.
And we've got an awesome range of men's hair products, hair hydration products, and hair conditioning treatments to assist with haircare, too.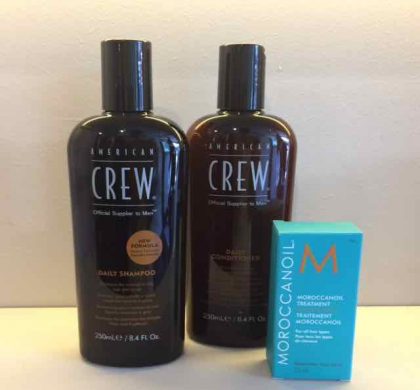 After the summer weather has subsided, clients often visit our men's hairdressers with dry, heat-damaged hair. The overall hair is in bad condition, having been in the wind, on beaches, and over-exposed to salty sea water.
One of the first ways to get men's hair back in shape is with a haircut, to tidy up the hair and trim off loose, split ends. This also gives tone, definition, shape and strength to the hair, making it easier to work with and keep in better condition as Autumn then Winter weather conditions set in.
Hair products for men we recommend as part of an effective Autumn haircare regime for men this year include:
American Crew daily shampoo and conditioner – awesome as part of a regular men's haircare routine to combat against Autumn hair damage.
Moroccan Oil – a few drops of this superb serum helps to hydrate the hair on a daily basis. It's a premium-quality hair product, and our clients love it.
We also offer a full and free hair consultation for men at our Bristol men's hair salon, so make sure you come and utilise our expert hair tips for men on your next visit. We'll advise you on the best haircut and hair products for you.
To find out more about our Gloucester Road barber salon in Bristol, contact us here.