At Franco's Barbering Lounge, we're starting to think about Grooming Product gifts for men at our Bristol barbering salon, and one of the newest and coolest male grooming product brands we stock has come up trumps this month.
We're pleased to announce that we're now stocking awesome Male Grooming Product Box Sets from Mariner Jack.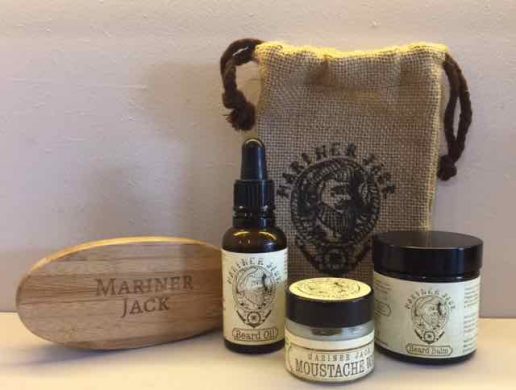 Mariner Jack have a number of superb male grooming and beard care products, oils and brushes specifically designed for the job – all packaged neatly up in a fantastic box set, making the perfect male grooming gift.
Each Mariner Jack male grooming kit gift box set contains the following:
Beard Balm worth £10
Beard Oil worth £10
Moustache Wax worth £12
Beard Brush worth £14
This complete range offers a high level of beard care and male grooming excellence, and we've been amazed at the popularity of the entire Mariner Jack range since starting to stock their products and gear back in August.
The Beard Brush detangles knots in the beard to maintain shape and form, whilst the Beard Oil conditions beard hair to prevent the skin drying and reduce itchiness on the face.
Beard Balm tidies up loose ends and grooms the beard into shape, whilst Moustache Wax is perfect for giving a handlebar look on any tache!
All the male grooming products and brush come to £46 in total, but if you mention this blog post at our Gloucester road men's hairdressing salon, you'll get the male grooming kit gift set for only £40, including a gorgeous bag too.
To find out more about our central Bristol barber salon, contact us here.