It's been an awesome few months for the team of expert barbers at the bigger and better new Franco's Barbering Lounge since opening the doors on Gloucester Road in Bristol. The picture below, taken last week, sums it up well: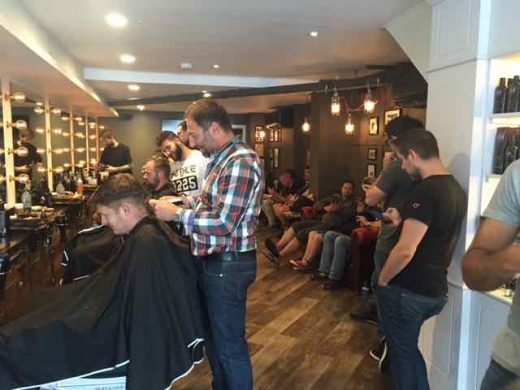 Although we're busier than ever before, there are now six barbers available – so waiting times for clients have been dramatically reduced overall. Result!
Our new men's hairdressing salon at 31 Gloucester Road officially opened on Wednesday 22nd June, and the feedback we've had on our new barbering and male grooming salon has been fantastic from clients old and new.
Some of the highlights of the last three months have included:
New barber joining the team
Apprentice barber starting
Men's treatment room launched
New beard care products in-salon
Male grooming services extended
New American Crew products
The new salon at 31 Gloucester Road is four times bigger than the old salon on Overton Road, and includes extra features such as six barbering chairs instead of three, air conditioning, free WIFI and toilets, state-of-the-art coffee machine, lounge area with leather Chesterfield sofas, and a huge range of men's hair products and male grooming products to choose from.
All-in-all, it's been an incredible few months, and the new barbering salon on Gloucester Road is winning praise from existing clients and new clients alike – check out some of the amazing testimonials our team of men's hairdressers have been getting here.
We think business is booming because we're the best barber in Bristol – why not come and see for yourself!
To find out more about our brand new Franco's Barbering Lounge on Gloucester Road, contact us here.