We've got awesome news at Bristol Barber with our newest Bristol barber team member at our Gloucester Road men's hairdressers completing his latest round of hairdressing education.
Luca Lombardi, (19) the son of Franco Lombardi, Founder and Creative Director at Barbering@Franco's, joined the family firm as a Barbering Apprentice over two years ago and successfully finished and passed his NVQ Level 2 in Barbering in record time at Reflections Academy.
Luca successfully completed blockwork, working with different hair products for men, and experimenting with different hairstyles for men.
Luca has now also passed his NVQ Level 2 Hairdressing qualifications, and was examined using a Mood Board, haircut and hair colour technique exam.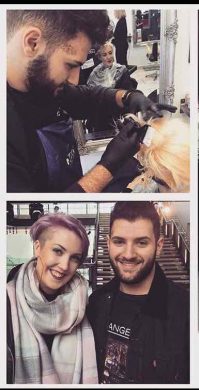 Luca passed his end-of-year NVQ Level 2 in Hairdressing with flying colours, and it's been an amazing 2016 so far for the newest team member at our well-established barbering hair salon on Overton Road near Gloucester Road.
Luca is looking forward to having his own column when we move to newer and bigger men's hair salon premises in June, and has already built a loyal client base during his time at our existing barbering salon opposite The Hobgoblin pub on Gloucester Road in the last two years. Well done, Luca!
Our new salon, called Franco's Barbering Lounge, will be open from early June, and the same team of expert men's hairdressers will head it up – including our rising barber superstar Luca, of course.
We'll be keeping clients up to date with the development and launch of new services at our brand new men's hair salon in coming weeks, so please keep a close eye on our Bristol Barber blog for offers, news and barbering tips.
To find out more about our central Bristol barber salon, contact us here.