At Bristol Barber, one of the most popular men's hairdressing blog slots we write for our clients is our regular Men's Haircut of the Month in Bristol, with hints, tips, men's hairdressing techniques and top hair products used by our Bristol barbers.
And our next featured Men's Haircut of the Month is one of the most complex men's hairstyles that can be delivered by a Bristol Barber – the Pompadour Contour Fade.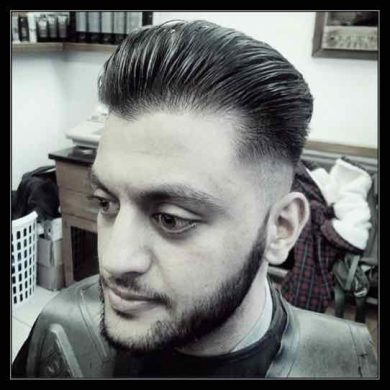 This time-consuming and highly-skilled men's haircut is delivered at our Gloucester Road men's hair salon utilising the following steps:
Creating a guideline first for the complicated men's hairstyling to follow
Cutting the hair down to a zero layer first, then fading out as required
Leaving the hair long on top then slicked back with detailed clippering
The beard was also then shaped to create extra definition for this look
Finally, all rounded off with Reuzel Pomade to give a slick, sharp hold
This sharp, groomed look is increasingly popular with our men's hairdressing clients, and is available in-salon from only £25, not including beard shaping.
This Pompadour Contour Fade hairstyle is a hot one to watch in Bristol!
The total look took approximately 30 minutes in the chair. Ask in-salon for more details, information and a free hair consultation for all of our clients.
To find out more about our central Bristol barber salon, contact us here.