Bristol Barber has been providing an increasing number of male grooming services throughout 2015 – due in part to our reputation for delivering awesome male grooming in Bristol from our Gloucester Road-based men's hairdressing salon.
Staying on the male grooming theme, this month's top male grooming service at our men's hair salon in Bristol has been Beard Grooming: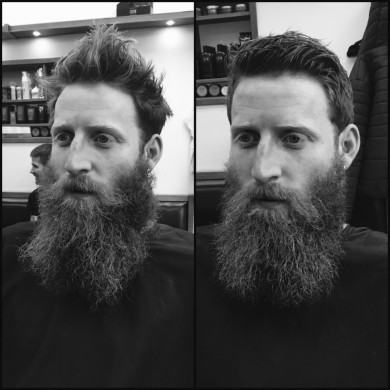 The first step was to shampoo and condition the client's beard – then applying Moroccan Oil treatment to nourish and enrich the condition of the beard hair.
A light trim followed, using scissors to create texture.
The preferred men's hair product used was American Crew Pomade in the hair to deliver shine as one of our favourite men's hairstyling products.
Then the beard was re-shaped and beard oil was applied as a finishing conditioning touch. The entire haircut and beard grooming took about 30 minutes, and costs from £25 at our central Bristol barbering salon.
As a further tip for guys with beards – comb the beard daily and apply two drops of conditioning serum. Comb this through. Make sure that you also shampoo your beard as you would with your hair – it's all about maintenance.
To find out more about our Gloucester Road men's hairdressing salon in Bristol, contact us here.