Bristol Barber have been advocates of classic haircuts for men for nearly 30 years now – and this month's top hairstyle for guys continues that long, proud heritage.
Making a huge comeback this year, the classic 1950s short hairstyle for men is a firm favourite with our men's hairdressing clients in Bristol.
From the picture below, it's easy to see why we love this men's haircut at our Gloucester Road-based barbering, men's hairdressing, and male grooming salon: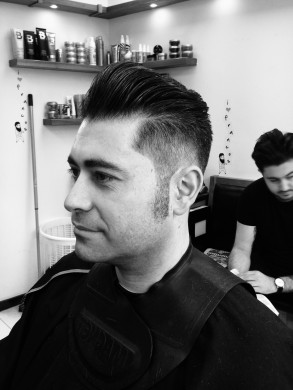 Delivering this quality haircut for men is one of our favourite pieces of men's hairdressing in our men's hairdressing salon, too.
The hair length is taken high and tight at the back and sides. This is a bespoke haircut for men, and is slightly different for each client. As a piece of artistic men's hairstyling, it's an awesome example of using clippers over comb.
The hair is tapered into long length on the top, creating a strong individual look with a quiff providing a 1950s edge.
Finally, the haircut is blow-dried whilst applying TIGI Totally Baked for volume on the quiff, then finished off with TIGI Slick Trick for a sleek shine look.
This stunning haircut for men costs from £22, and takes roughly 30 minutes in the chair. Pop in and get yourself a classic, quality, smart hairstyle for Winter.
To find out more about our Gloucester Road men's hairdressing salon in Bristol, contact us here.