Bristol Barber team member Josh Parr is off to Thailand for two months on a travelling adventure this month – but will be back to deliver awesome men's hairdressing.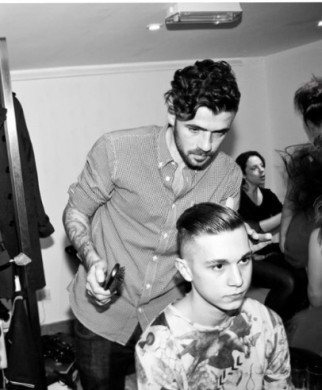 Josh, pictured above in action, has been one of the team of men's hairdressers at our Gloucester Road barbering salon since 2013, and we wish him well on his Asian travels from mid-October.
Josh, who won the acclaimed 'UK Hairdressing Student of the Year' award in 2013, has gained a solid and loyal client base since becoming one of the team, and we'll be pleased to see him back at our central Bristol men's hairstyling salon before Christmas.
Josh will be travelling throughout Thailand and Vietnam during his two-month travelling vacation, and we're sure he'll come back with stories of awesome adventure. Good luck and best wishes from your barbering buddies, Josh!
Pop into see Josh and our team of professional men's hairdressers on Gloucester Road – you'll always get a warm welcome from our team here.
To find out more about our central Bristol barber salon, contact us here.