Here at Bristol Barber we like to focus on the most important part of running a busy men's hairdressing salon on Gloucester Road – namely, contemporary hairstyles for our clients.
And this month, our top haircut for men in Bristol is a firm favourite, especially during the Summer months – Short Back And Sides High Tight Disconnected hairstyling for guys.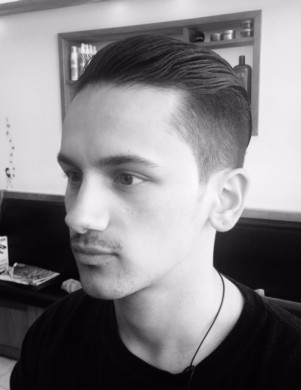 It's a complex haircut but one that delivers a stunning, strong look.
Our expert barber started with a horseshoe section to separate the top and sides, with clippering along the sides and back, then taking it shorter to create a sculpted look.
The preferred look on this disconnected haircut is short, aggressive and confident.
Then, the hair is faded into the nape of the neck but not blended at the top. The top is left longer – similar to Brad Pitt in last year's Fury movie.
The whole look is complimented by using TIGI B for Men Slick Trick Pomade to create a slick shine and medium hold. The perfect Summer haircut!
This hairstyle for men takes approximately 30 minutes in the chair, and costs from £20 at our Gloucester Road-based barbering salon. Pop in to see us.
To find out more about our Gloucester Road men's hairdressing salon in Bristol, contact us here.